27th january - 3rd of february 2024
The founder, Janneke van Amelsvoort, and Master Instructor, Joshua Norris-Ongso, organized an unforgettable experience in September with multiple workshops and free time in beautiful Bali.
The retreat offers Bungee Super FlyⓇ masterclasses & workshops, Aerial Yoga, Pilates Rehab, Stress release, Business talks, Beach workouts and more!
This retreat is open to anyone who wants to join and share the experience!
You don't have to be a Bungee Super FlyⓇ instructor or Aerial Yoga Nederland teacher.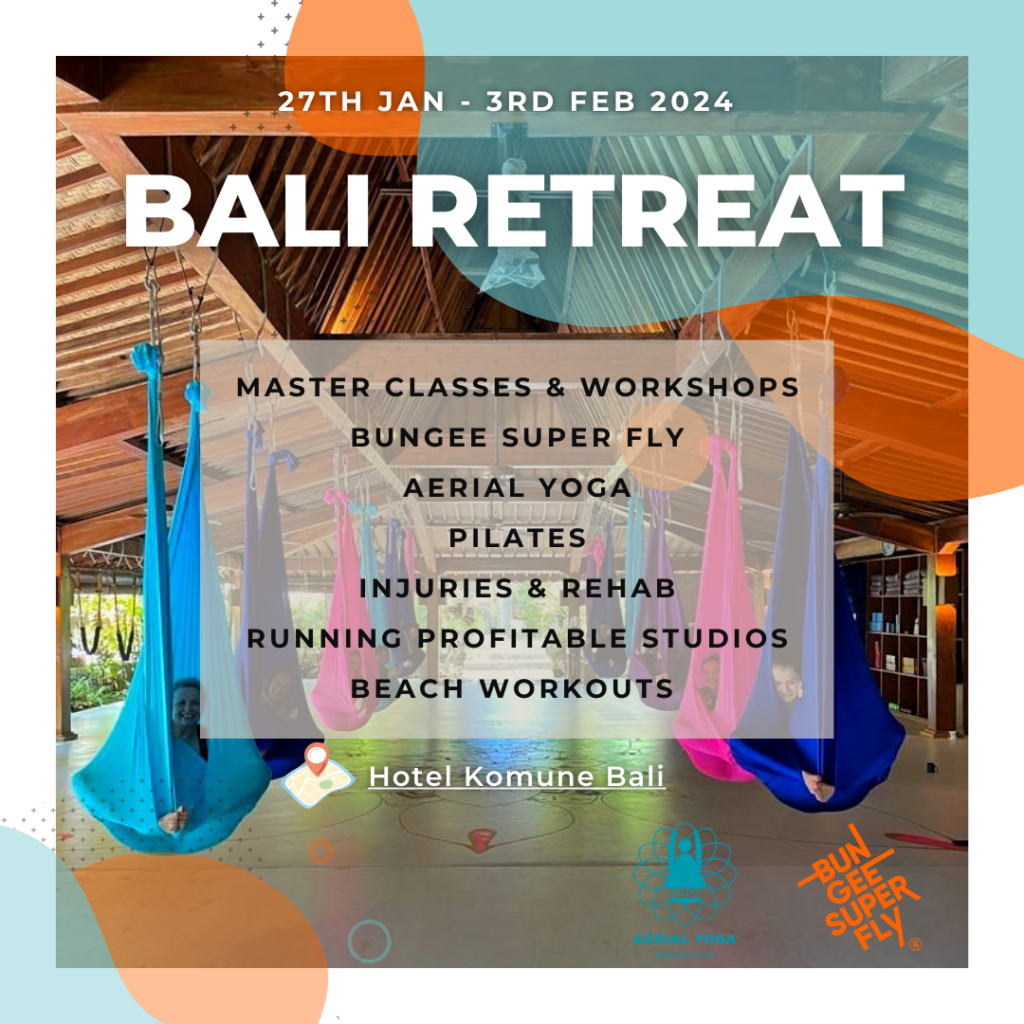 Did you know that you can get €150 discount by referring a like-minded passionate friend!


Send an email to info@aerial-yoga.nl with the name(s) of the person(s) you want to bring along. Once the person has purchased the Bali Retreat, you will be refunded the discount.
If you are not yet a Bungee Super FlyⓇ instructor and would like to become one, you can enroll in the full Bungee Instructor Training by selecting the price option under "Inc. Instructor Training"! The price of the training is included in the total price.
Bungee Super FlyⓇ and Aerial Yoga Netherlands strive for a community. To get inspired & recharged, lift each other up and enjoy one of the most beautiful places in the world together. All activities are optional that you can participate in, you are free to decide how you want your Bali retreat experience. Nothing has to, nothing but fun!
We stay at Hotel Komune Resort and Beach Club on the beach, where the activities take place on the shala overlooking the turquoise ocean. You have the option to choose between a single room (for one person) or a double room (shared - for two people), which is why the prices differ. All rooms are equipped with a private bathroom, cable/satellite TV, linen, bathrobes and towels, wireless internet available, air conditioning and more!
Take a look at the Hotel's website to see more here.
What the retreat offers you:
Inspiring workshops to deepen your practice, knowledge and open up new business opportunities;

The best instructors and excellent staff

A beautiful accomodation

Delicious food

Enchanting Views;

Free time to enjoy the area;

And above all: great company!
Treat yourself to this unique opportunity for personal development and business growth.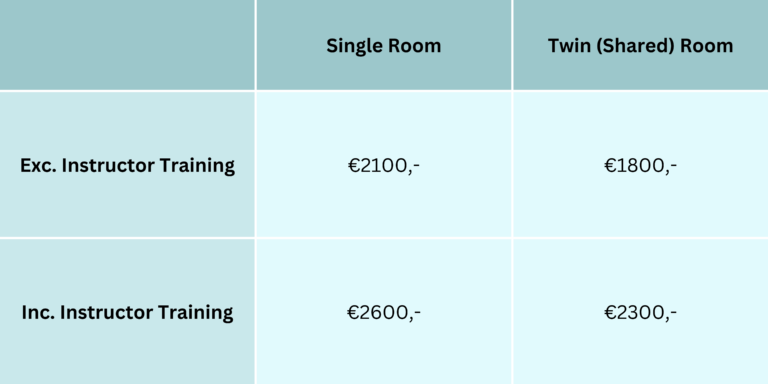 Prices DO include:
Transfer from the airport to and from the hotel.

Accommodation for 6 days.

All inclusive meals for 6 days.

A massage.
The prices DO NOT include:
Your return flights.

VAT.

Costs for activities outside the agenda.

Personal expenses.
If you have any questions, don't hesitate to ask!
See you there 🙂
– Bungee Super FlyⓇ instructeur & Aerial Yoga Nederland team –
Do you have any QUESTIONS?
OF Schrijf je in voor EEN VAN onze opleidingen
Have you seen an Aerial Yoga training in our extensive range that you are interested in? Register today for our Basics training or one of our follow-up modules. You can always reach us on the number +31 20 211 11 25 or by sending an email to info@aerial-yoga.nl for more info.